The Oldest African American Yacht Club Is Now A Part Of The National Register Of Historic Places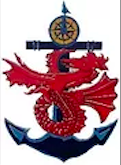 On May 2nd, 2022, The Seafarers Yacht Club achieved an important landmark, adding another feather to its cap.
Located on the Anacostia River north of the John Philip Sousa Bridge (Pennsylvania Avenue, SE) and just south of the CSX Railroad bridge (across from the skating rink in Anacostia Park), The Seafarers Yacht Club,organized in 1945 as the Seafarers Boat Club, has long been known as the oldest African American yacht club in the United States.
Lewis T. Green, Sr., a wood carving and vocational arts teacher in the DC Public Schools, founded the Seafarers Yacht Club in 1945. He began making boats as a hobby, but while looking for a place to dock one of his boats, he got in touch with the Interior Department about this location. Green was instructed to start his own boat club, and even after doing so, he had to wait in vain for a response from the government.
It was around this time that Green first came into contact with Mary McLeod Bethune and First Lady Eleanor Roosevelt, who helped him rent the land for the club. Club members improved the marshy ground, constructed docks, and erected a clubhouse at the location, which was formerly known as Green's Boat Yard.
The club quickly became dedicated to community involvement and boating safety as it merged with the D.C. Mariners Boat Club in 1965. The club started the Seafarers Yacht Club Annual Cleanup in 1985, and it eventually developed into the springtime Anacostia River Cleanup Day.
Located at 1950 M Street SE in Washington, DC, The Seafarers Yacht Club, was listed as a historic landmark on March 3rd, 2022, by the Historic Preservation Review Board. The board also recommended that the nomination be sent to the National Register of Historic Places for listing as a local landmark.
Watch Video
Media Contact
Company Name: Seafarers Yacht Club
Contact Person: Commodore Tony Ford
Email: Send Email
Phone: 202-544-7333
Address:1950 M Street SE
City: Washington
State: District of Columbia, 20003
Country: United States
Website: www.seafarersyachtclub.com